In Memory
Danny Silverman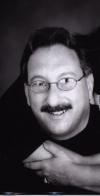 Daniel Mark Silverman was born in Newark, New Jersey on March 28, 1953; he passed from this life on March 11, 2011. He was preceded in death by his father Robert M. Silverman and his mother Helene W. Silverman. On January 5, 2008, Dan and his wife Beth attended a hockey game in Denver. While walking to their car, they were both run down by a car in the parking lot. While Beth had broken bones, Dan suffered a massive traumatic brain injury. The last three years of Dan's life were spent dealing with the results of this assault and his death was the direct result of this assault.
He is survived by his wife, Beth and step-sons, Chris Ellefson and Nick Ellefson. He had two daughters from a previous marriage, Amy and Marley, two brothers, Joel Silverman of Boulder and Al Silverman of San Francisco, several nieces and his nephew Max, Jack and Gerri Silverman, aunt and uncle , Susan and Lloyd Weinerman, aunt and uncle.
Beyond all else Dan was a brilliant and loving man. He found humor in every situation and loved nothing more than to come home and share stories of his day with his wife. Dan laughed every day and brought this joy to those around him. Dan and his wife were blessed to be able to travel together and always returned home with many stories of their adventures. Even In the darkest days of life, Dan always found a way to look for the positive. His wife Beth feels incredibly blessed to have been loved by Dan and is grateful for every day that they shared together. Dan's friends have all experienced what it is like to be loved and cared for by Dan and they are all better people for having known Dan.

The last years of Dan's life were difficult and challenging however, the presence and participation of all of his friends made these days richer and allowed Dan and Beth to understand and appreciate the wonder and goodness of the human spirit. This is a gift that will forever be appreciated. Each day of Dan's life was lived with the knowledge that every day is a day of endless possibility.